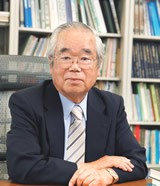 In the midst of the global COVID-19, all activities of WOS have been suspended since the 8th International Oyster Symposium (IOS8) was successfully held in Qingdao, China. This unpredictable situation is truly unfortunate for all of us. How have you been over the last two years?

Today, I would like to express my thoughts on the next President of WOS and obtain your consent.

I got older and turned 82 years old. Recently, I have often suffered from various diseases caused by aging. So, I would like to retire from the President of WOS and let the younger generation inherit it.
As a result of comprehensive consideration from various points of view, I finally reached the following conclusions.
Dr. Aswani K. Volety, Provost, Vice President for Academic Affairs, and Professor of Biology, Elon University, Elon, NC, USA deserves the next President of the World Oyster Society.
As you know well, he is the Director of the North and South American Chapter of our society. Under his leadership, the chapter explored ways to increase its membership, including partnering with the National Shellfisheries Association to develop targeted workshops and conferences to address specific regional needs, especially those of the oyster science and industry. He was the UNCW College of Arts and Sciences Dean.
Last month, I wrote my email to him to see if he was willing to assume the role of President of WOS that I had been for more than 16 years since I found it in 2005 in Tokyo, Japan. I got promptly the following reply from him.
"If I have your support, I am happy to assume the role of the President of WOS. I would love for you to continue on the management including serving as the Founder and Honorary President of WOS."
Of course, Dr. Volety can have my support as long as my physical condition and health allow. Our mutual/ collaborative work will start from now on.
I look forward to his outstanding abilities of academic managements, networking and financial wisdom/idea to raise/collect funds and donations. In particular, I would like to emphasize that he has a close relationship with the National Shellfisheries Association, and he can bring synergies with it as well.
I strongly hope that WOS will continue to grow under the excellent leadership of the new President, Dr. Aswani.
Best regards,
Katsuyoshi Mori, Ph.D
Founder and President of the World Oyster Society,
Professor Emeritus of Tohoku University, Japan
(February, 2022)