Policy and Planning for Chapter Management
The European and African Chapter includes over 100 countries, around 75 of which have maritime areas. It is not surprising therefore that the interests of the members of this Chapter are varied. This Chapter plan is for the period leading up to IOS7 in autumn 2017, after which a new plan will be proposed based on members' needs and priorities.
The Chapter will support the vision, mission and objectives of the World Oyster Society (WOS), developing an active, increased membership representative of the region. It will do this by identifying key individuals from research, production, producer organisations, processing, marketing, governance and others with connections to oysters and inviting them to join. At the same time a more general drive to welcome new members will be undertaken. An understanding of the varied fisheries and oyster production methods in the region as well as other oyster-related activities will be mapped as part of the process of developing the chapter.
Effective information exchange will be developed using a platform or platforms chosen based on feedback from members. Research, safeguarding existing production, developing new production, sustainability, food system security and the environmental role of oysters will be core themes, however input from members on anything supporting the goals of WOS will be welcome. The fact that WOS is a global organisation is a key benefit of membership, lessons can be learned about these core themes from other Chapters and information can also be provided.
The 7th International Oyster Symposium, to be held in the UK, is an opportunity for members from all Chapters and from different sectors to meet and network, exchanging information and ideas. Information about IOS7 will be disseminated via the conference website, www.oystersymposium7.org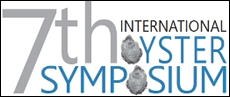 Director

Dr. Jonathan KING
Bangor University, UK
Contact
E-mail: j.w.king@bangor.ac.uk
Website:www.cams.bangor.ac.uk/